January 18-25, 2020 is the annual observance of the Week of Prayer for Christian Unity.
Begun in 1908, these days have been set aside each year so that Christians the world over may share the prayer of Jesus: "that all may be one… that the world may believe" (John 17:21). The theme chosen for 2020 is "They Showed Us Unusual Kindness." (cf. Acts 28:2).  The material for 2020 was created by Christians Together in Malta.  For these eight days, Notre Dame Health Care will be joining together in solidarity with Christians everywhere to pray for Christian unity and for peace and reconciliation in the world today.
As we gather throughout our nation to pray for the unity of Christians we are reminded of the importance of need for "unusual kindness" in the dialogue that leads to growth in unity. We do this in a world where separation and division hinder the quest for Christian Unity. In 2020, we are being called to show unusual kindness towards one another. As Paul recorded in the Acts of the Apostles, it was it is through their unusual kindness that a divided people were drawn closer together. (cf. Acts 27:18 – 28:10)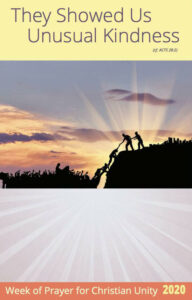 The Week of Prayer for Christian Unity gives Christians an annual opportunity to continue their quest for the unity they already share in Christ. It is also a time to gather in praise of the Triune God and to deepen the understanding of the ecumenical movement. By joining in this annual celebration Christians raise their voices, hands and hearts to God seeking the fulfillment of the prayer of Jesus, the Son of God, "that they all may be one."
The Week of Prayer also invites those who participate to use it as an opportunity to examine the effectiveness of the ecumenical movement in seeking to end the divisions among Christians. From the smallest to the largest communities, from all cultures, races and language groups, from all the baptized to all those in ordained ministry, the Week of Prayer is also an opportunity to ask and examine the level of support they have given to this important movement in the life of the Church. An accounting of each Christian's discipleship and faithfulness to the proclamation of the Gospel—the good news of reconciliation—can be taken every year during the Week of Prayer for Christian Unity.
Please click below to download daily scripture, meditation, prayer, and questions for reflection and action.
We hope you will join us in prayer this week!
Week of Prayer for Christian Unity Day 1
Week of Prayer for Christian Unity Day 2
Week of Prayer for Christian Unity Day 3
Week of Prayer for Christian Unity Day 4
Week of Prayer for Christian Unity Day 5
Week of Prayer for Christian Unity Day 6
Week of Prayer for Christian Unity Day 7